In one of my first posts, I discussed an
ambitious goal of reading 50,000 pages
in a calendar year, sometime in my life. Since I started tracking the number of pages I read each year, I have come nowhere near that close (I think the closest I've come so far has been 15,000).
If I keep reading the way I have been the first three months of this year, I may get three fifths of the way to my goal. I've currently read 7,103 pages (only counting books I have completed - I have several that I have started but they won't be included until after completion because of the way I have built my tracking spreadsheet). At this rate, I will hit 28,412 pages by the end of the year. Not too shabby.
The "box score" for completed books so far this year is as follows:

Books Read:
22
Pages Read:
7,103
Average Pages/Day:
78.92
Average Days/Book:
3.73
Books Reviewed:
21/22 (95%)
Average Review Ratings:
3.90 stars
Something interesting I noticed was that 59.09% of the text that I have read so far has been requested material; either through the Amazon Vine Program or books that have been sent to my by publishers or authors. I think that might have something to do with the massive increase in pages read. I have added a couple of things to the side of this blog; first being a slide show to show what I am currently reading and the second a slide show that displays all the books I have received that were requested of me to review.
Anyways, for you visual learners out there, here are the graphs (I have added one that compares monthly reading habits):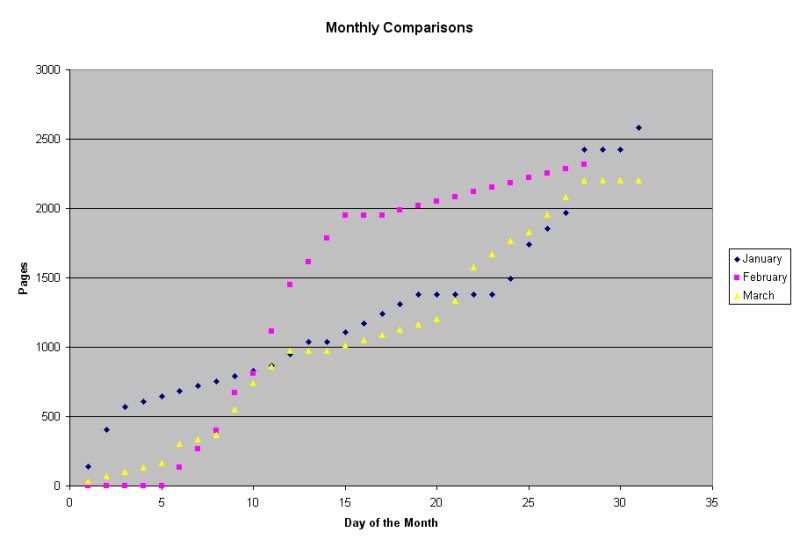 Until next time, good reading,
Plants and Books