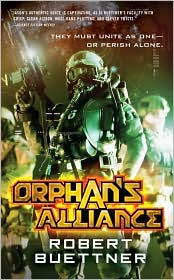 Title: Orphan's Alliance
Author:
Robert Buettner
Copyright: 2008
Publisher:
Orbit Books
ISBN: 0316001740
Notes: Fourth book in the Jason Wander series
Amazon
|
Borders
|
B&N
The Price of War, The Price of Humanity
- 5 stars -
a book review
"Nearby Waterloo, I saw a Sergeant of Artillery seated upon his caisson, which the rains had mired in the road ditch. His eye had been shot out, and one of his mean, whoes leg was off, wept beside him. The Sergeant complained that Prussian cavalry had bypassed them. He said, with some heat, "Our own allied abandoned us like orphans!" I told him straight, "in this hell, better an orphans' alliance than no alliance at all."



-Remarks at the annual Waterloo Dinner of 1812, attributed to the Duke of Wellington (an excerpt from the beginning of

Orphan's Alliance

)
After establishing an uneasy alliance with other human colonies on earth like wars in the previous installment (
ORPHAN'S JOURNEY
), Jason Wander finds himself playing the role of diplomat and warrior, a balance the Wander has had difficulty (and great success) doing in the past. Using interstellar travel methods similar to wormholes, Wander planet hops to build strengthen Earth's alliance against the never ending confrontation with the Slug armada that always seems to be knocking at the doorstep, leading to a beautifully thought out and wonderfully executed battle.
Robert Buettner has created a world that is believable and has explored a new aspect of humanity in each installment of the
Jason Wander series
. In ORPHAN'S ALLIANCE he tackles the price of war and the alliances of humans with personal interests with a war that hinges loosely on one more battle.
Buettner
brings the cast of characters back that readers have grown fond of including Ord, Jude, Munchkin, and Howard. ORPHAN'S ALLIANCE brings a whole new element to his series with some true feeling, hard hitting emotions to the characters and their actions. As in every war, death strikes close to home and the emotional responses are touching to say the least. There are few books that I have had a true emotional response to, and
Buettner
achieved this with me not once, but twice toward the end of the book. Negating the rest of the other profound achievements in this book, these two moments alone are worth the time invested in reading this book.
Highly recommended.
Good reading,
Plants and Books