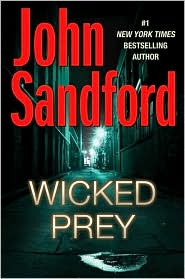 Title: Wicked Prey
Author:
John Sandford
Copyright: 2009
Publisher:
Putnam
ISBN: 0399155678
Notes: 19th Prey Novel
Amazon
|
Borders
|
B&N
One of the Best Lucas Davenport Books So Far
- 5 stars -
a book review
In his nineteenth edition to the Lucas Davenport Prey series, John Sandford proves beyond a reasonable doubt that somethings will never grow old or tired. The hero, Lucas Davenport, is up to his neck in problems in WICKED PREY. WICKED PREY has three different crimes running at the same time that seem to weave in and out of each other, all the while the Republican Nomination Convention sets the stage for limited resources and manpower in the background.
On the forefront there is a gang of armored car robbers looking for a big score, a man with a rifle looking for weaponry for a 750 yard shot, and Randy Witcomb (from previous Prey installments) looking to settle the score with Davenport.
Sandford excels in painting the life of a law enforcement official, from the slow times of walking the beat to the climatic shootouts, and WICKED PREY is no exception. The writing style is so elegant in the portrayal of the life looking for criminals, hoping for breaks, and running around in the thick of chaos. As he has proven time and time again, nobody writes a better criminal apprehension story than John Sandford, and WICKED PREY is no exception.
WICKED PREY is fantastic. It just might be one of my top three Lucas Davenport stories, coming in a close second or third behind BROKEN PREY and SECRET PREY. Don't miss this one; it's WICKED!
Good reading,
Plants and Books