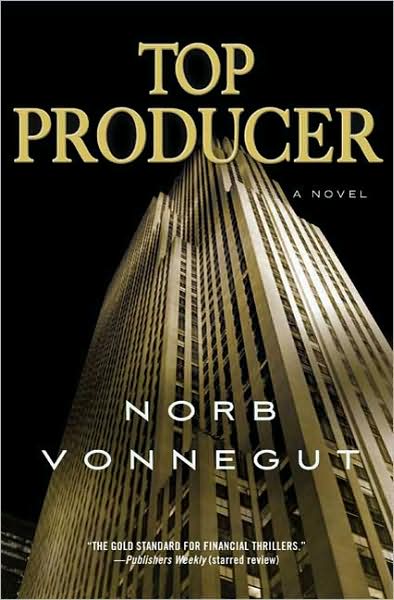 Title: Top Producer
Author:
Norb Vonnegut
Copyright: 2009
Publisher:
Minotaur Books
ISBN: 0312384610
Amazon
|
Borders
|
B&N
Good Financial Mystery
- 4 stars -
a book review
Although I do not consider it a thriller,
Top Producer
was an enjoyable experience. The opening chapters set the stage as Grove O'Rourke and 500 other people watch as Charlie Keleman is gruesomely killed by sharks in an aquarium. Obviously Charlie was not as well loved as everyone seemed to believe.
Vonnegut displays his knowledge of Wall Street with skill, and against all odds, paints an exciting and interesting picture of high finance and a world where money is king. Traversing Charlie's accounts becomes a tiresome and mind boggling task for O'Rourke as he helps Charlie's wife reclaim the money that has been invested. Along the way, O'Rourke has to deal with the police and friends/associates whose business it is to not share secrets. However, the secrets do come out, and the mystery of Charlie's death becomes as tangled as a politicians income tax returns.
The characters in
Top Producer
are top notch. They are completely believable and well depicted as everyone has an agenda and keeping their jobs and making money is the might be more important than solving the mystery of who killed Charlie Keleman. Although
Top Producer
is filled with financial jargon and countless explanations of the business, Vonnegut writes it in such a way that it flows nicely with the story and provides the reader with exactly what is needed to know without going over the top. Not only is
Top Producer
a good mystery; but also a nice education lesson in accounting, investment, and Ponzi schemes.
Good reading,
Plants and Books