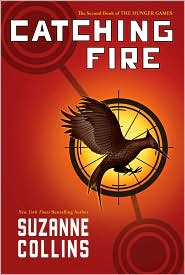 Title: Catching Fire
Author:
Suzanne Collins
Copyright: 2009
Publisher:
Scholastic Press
ISBN: 0439023491
Notes: Second book in
The Hunger Games Series
Amazon
|
Borders
|
B&N
Everyday is a Revolution
- 4 stars -
a book review
Catching Fire
continues right where
The Hunger Games
ends, with the victory of Katniss and Peeta in the defiance of the powerful Capital. It seems their win has started some of the Districts to think that there may be a better way to live other than the complete control that The Capital has for them. Without giving away too much, there is plenty of the good stuff that readers enjoyed from
The Hunger Games
and more character development of the characters that made
The Hunger Games
so memorable.
Returning home from The Hunger Games is only the beginning, and as victors, Katniss and Peeta travel to all twelve districts and get a feeling that there is the beginning of a revolution. However, their lives will never be the same as The Capital pulls another fast one, putting them in another situation that they just may not be ready to deal with yet.
As mentioned, everything that was enjoyable about the first volume is back: compelling characters, sticky situations, a vicious enemy, and of course, blood thirsty killing. The beginning of the book starts a little slow, but ramps up in the intensity at about the halfway point and I wish there would have been more detail in the final setting. Although
Catching Fire
is not near as good as
The Hunger Games
, it is a worthy sequel and should be read by fans of the first book.
Good reading,
Plants and Books.